Metalsphere
The concept of industrial tailoring connects Barausse and De Castelli in an experience that enhances their respective excellences and generates a product that celebrates the extraordinary nature of Made in Italy, testifying not only their manufacturing skills but above all their determination to go beyond the limits, constantly aiming towards beauty and innovation.
Metalsphere catalogue
"We combine the warmth of wood with the elegance of metal to create sophisticated products"
The concept of industrial tailoring brings Barausse and De Castelli together in an experience that promotes their respective expertise and creates a product that celebrates the unparalleled artistry of Italian craftsmanship. This showcases their manufacturing capabilities and determination to push beyond the limits, in constant pursuit of beauty and innovation.
Their experience with unique materials showed by exquisite woodworking and original surface treatments, combines with a common vision focused on experimentation.The result is a collection of partitions and closing solutions which is the perfect combination of wood and metal, for an exclusive luxurious and contemporary aesthetic result.
The wood's warmth and texture convey a sense of depth and tangibility, emphasised by the elegant and refined appearance of metal. Visual and tactile sensations unite resulting in special doors that serve their function with sophisticated style and dramatic impact.
IN PARTNERSHIP WITH DE CASTELLI
Faithful to its decision to reinstate the special role of metal in design and experimentation, De Castelli infuses artisan ideas and workmanship into industrial processes, leading to entirely original results. The encounter with design inspires an approach to materials founded upon respect for their potential, be it hidden or obvious, which emerges slowly in unique works. Unique not only for the hand that has created them, but also for the singular cultural path that focuses on the aesthetic (and not just practical) value of the primordial material with which De Castelli shapes living spaces.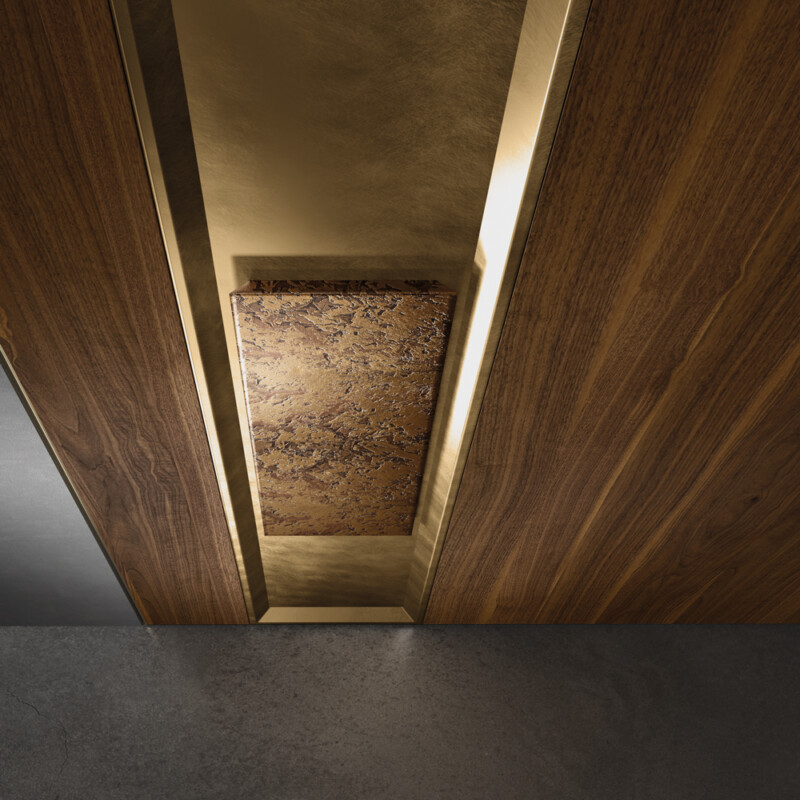 BUCKLE
Barausse introduces an innovative concept in the world of doors and design. A metal "belt" runs along the entire height of the door, closing with a "buckle" that acts as a handle. De Castelli metal band, recessed in the door, mentions the structural components appearing as an architectural insert that helps to convey a sculptural image. A union of form and function that is elegant and scenographic at the same time; a work of art to make closing solutions and partition systems much more than simple accesses.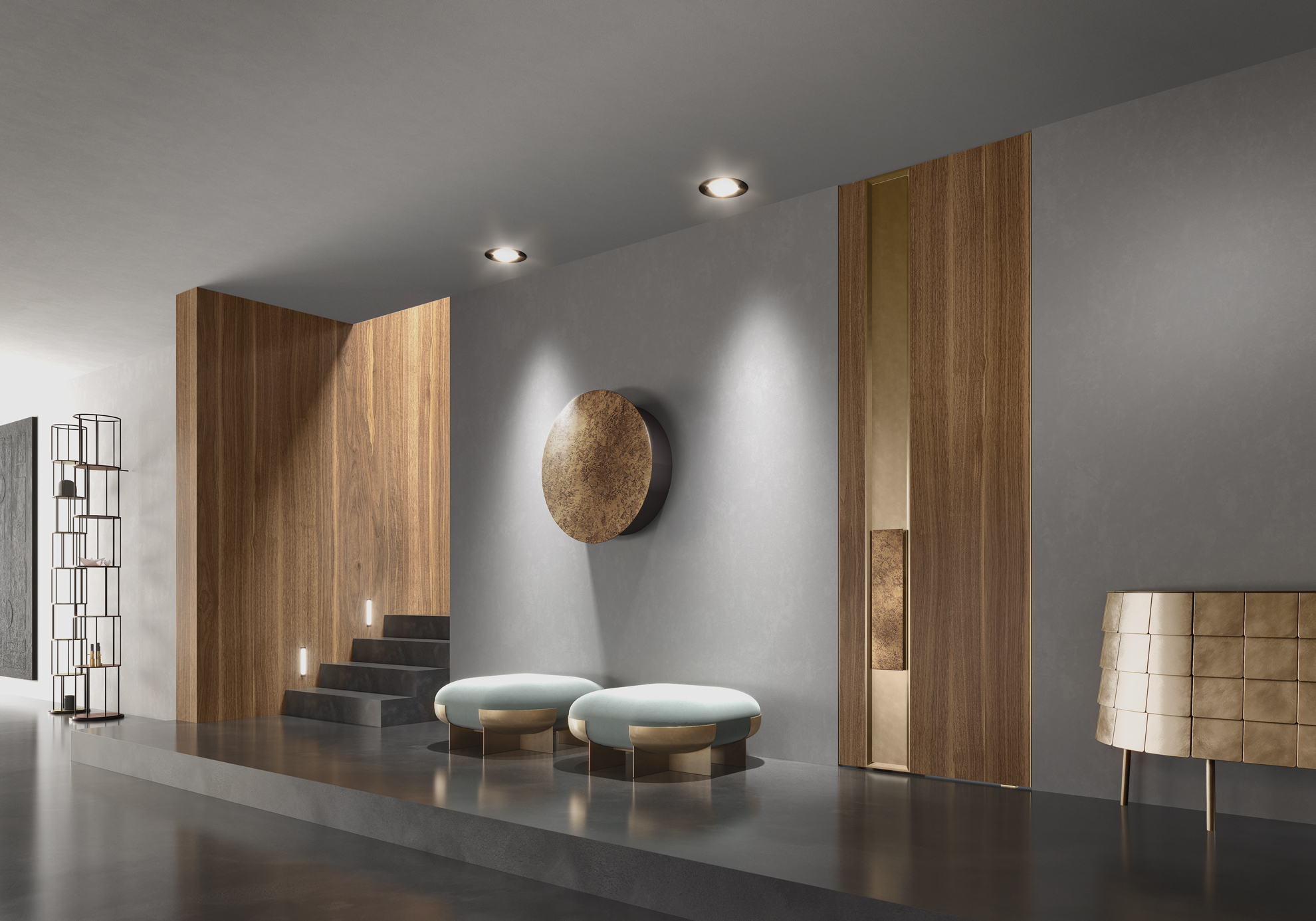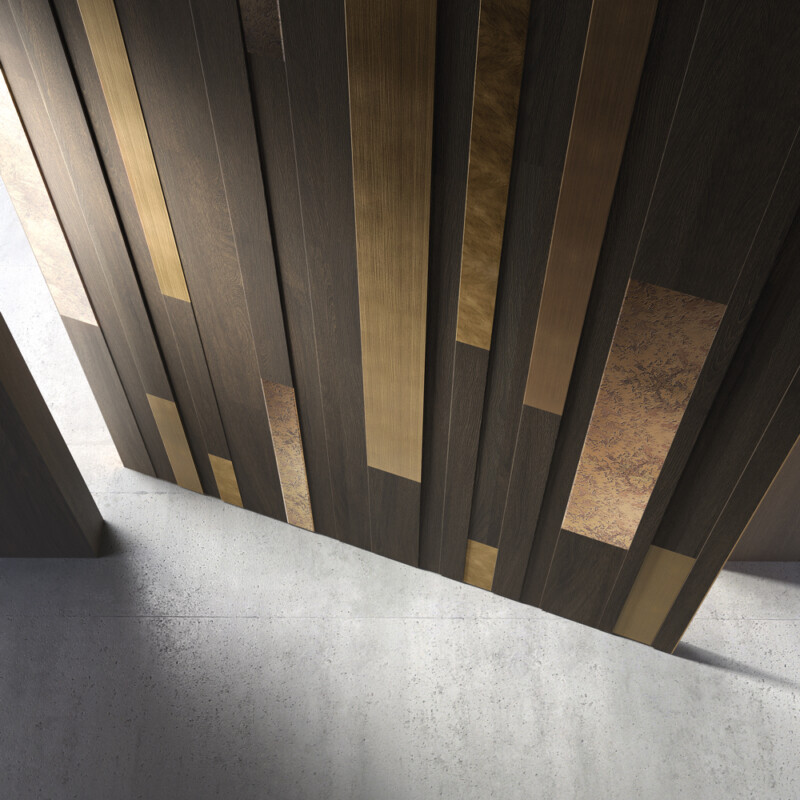 DRESSED UP
A celebration of creativity and design, Dressed Up is not a product so much as a concept with which to explore a potentially infinite array of shapes and materials that can be combined with the utmost compositional freedom.
A partition that incorporates inlays of exquisite wood and metal, integrating various opening systems with the boiserie to create seamless surfaces, even over large areas. The varying thicknesses of the wood slats combined with the DeLabré Orbitale brass strips in Striato and DeErosion finishes (exclusive finishes developed by De Castelli), reflect light in irregular ways. This creates a textured "chiaroscuro" effect that provides a dramatic backdrop.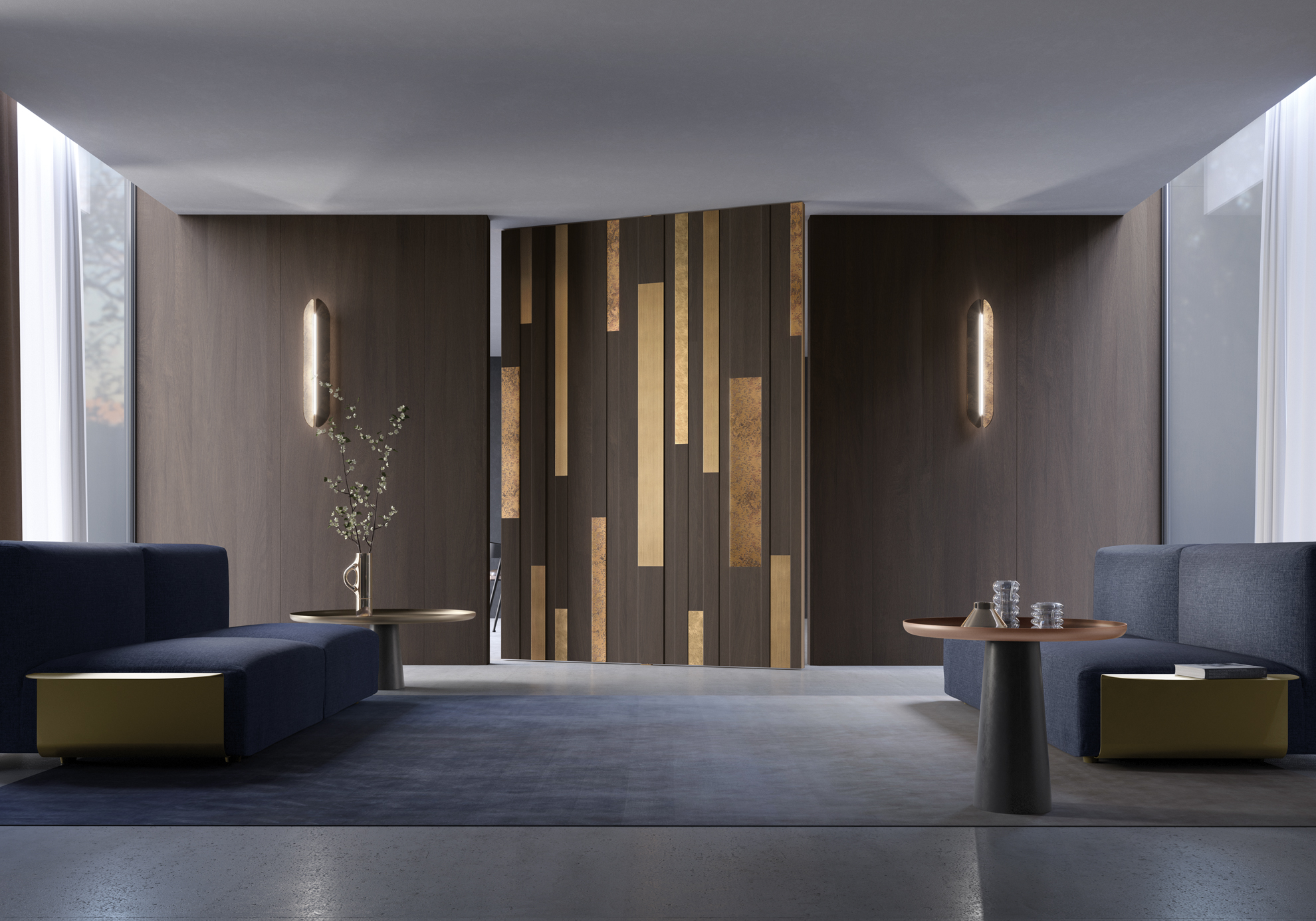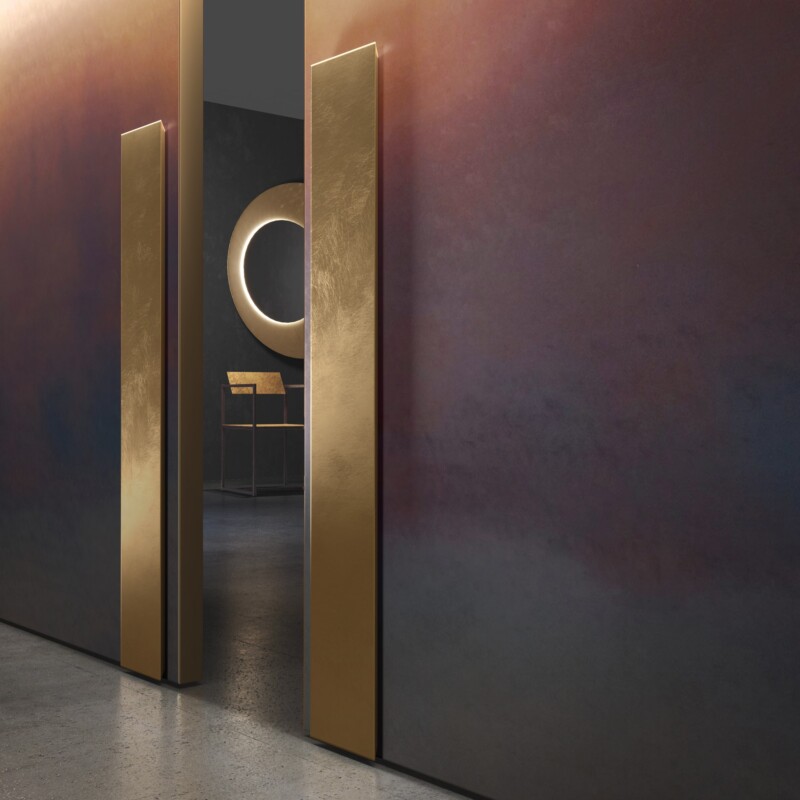 LUMINOVA
The new brass rectangular handle with a DeErosion finish, stands out for its significant height of 120 cm, emphasising its verticality.
Luminova is applied directly to the door and has a slightly tapered shape, designed to facilitate its use. The handle becomes an aesthetic feature that stylistically demonstrates its function. It can be paired with wooden lacquered doors or brass-clad doors with a DeMarea or DeLabré Striato finish. The DeLabré Orbitale brass profile defines and completes the door, creating a connection between the different materials.