METALSPHERE: BARAUSSE AND DE CASTELLI PARTNER FOR A COLLECTION OF EXQUISITE DOORS AND PARTITIONS
Literary quotes, cinematic metaphors, poetic allusions: the door is a magical object, loaded with meaning, which, in this partnership between the Vicenza-based company Barausse and the De Castelli metal factory, acquires even greater symbolic value. The Metalsphere collection of doors explores new mixes that unleash the potential of natural and unique materials, merging the two great companies' vision.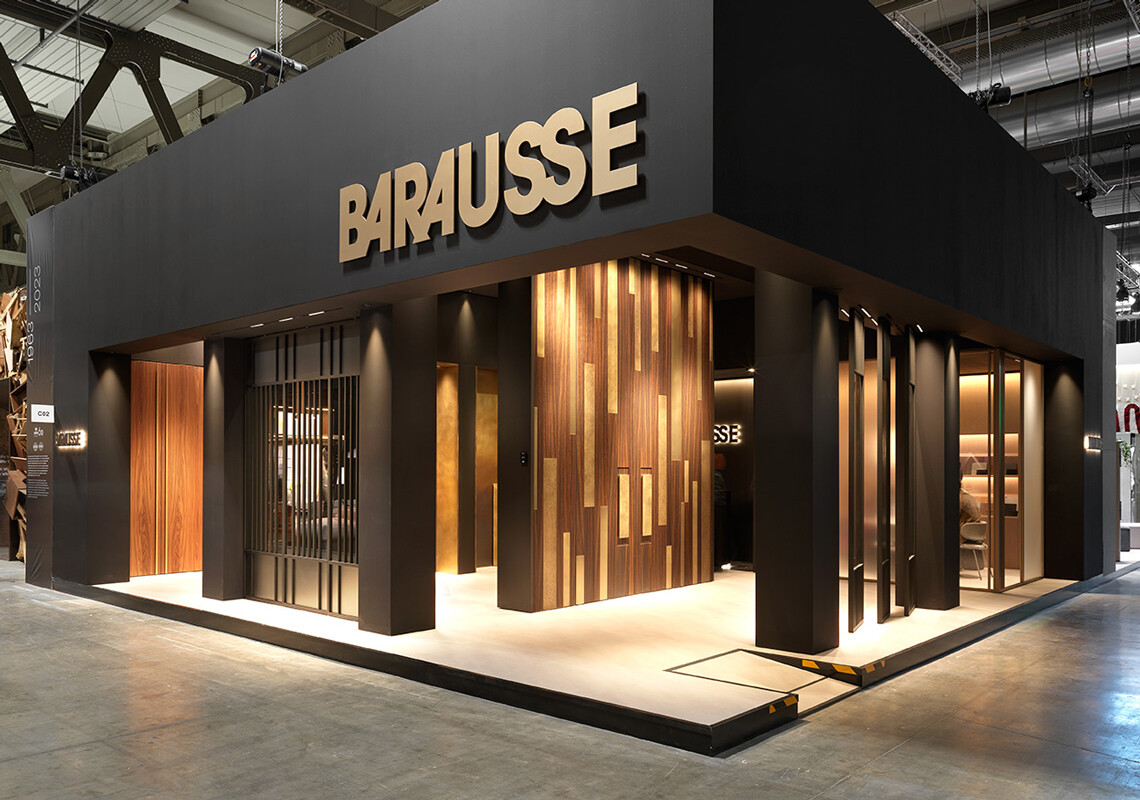 On the occasion of the Milan Design Week 2023, we presented the new Metalsphere collection. The concept of industrial tailoring brings Barausse and De Castelli together in an experience that promotes their respective expertise and creates a product that celebrates the unparalleled artistry of Italian craftsmanship. This showcases their manufacturing capabilities and determination to push beyond the limits, in constant pursuit of beauty and innovation.
Their experience with unique materials showed by exquisite woodworking and original surface treatments, combines with a common vision focused on experimentation. The result is a collection of doors which is the perfect combination of wood and metal, for an exclusive luxurious and contemporary aesthetic result.
The wood's warmth and texture convey a sense of depth and tangibility, emphasised by the elegant and refined appearance of metal. Visual and tactile sensations unite resulting in special doors that serve their function with sophisticated style and dramatic impact.
Thanks to Barausse know-how, the opening systems can be created with non-standard heights, which can reach up to 4 meters, to meet exclusive project requirements and fit into highly prestigious environments.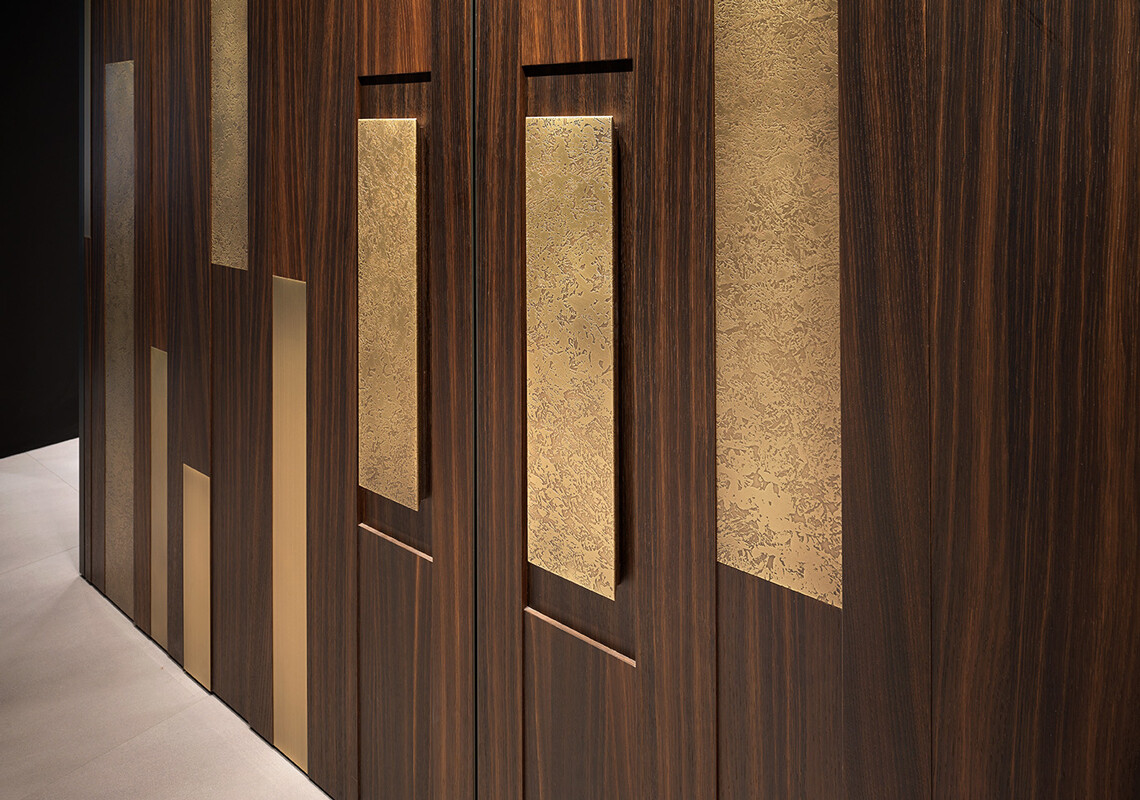 DRESSED UP
A celebration of creativity and design, Dressed Up is not a product so much as a concept with which to explore a potentially infinite array of shapes and materials that can be combined with the utmost compositional freedom.
A partition that incorporates inlays of exquisite wood and metal, integrating various opening systems with the boiserie to create seamless surfaces, even over large areas.
The varying thicknesses of the wood slats combined with the DeLabré Orbitale brass strips in Striato and DeErosion finishes (exclusive finishes developed by De Castelli), reflect light in irregular ways. This creates a textured "chiaroscuro" effect that provides a dramatic backdrop.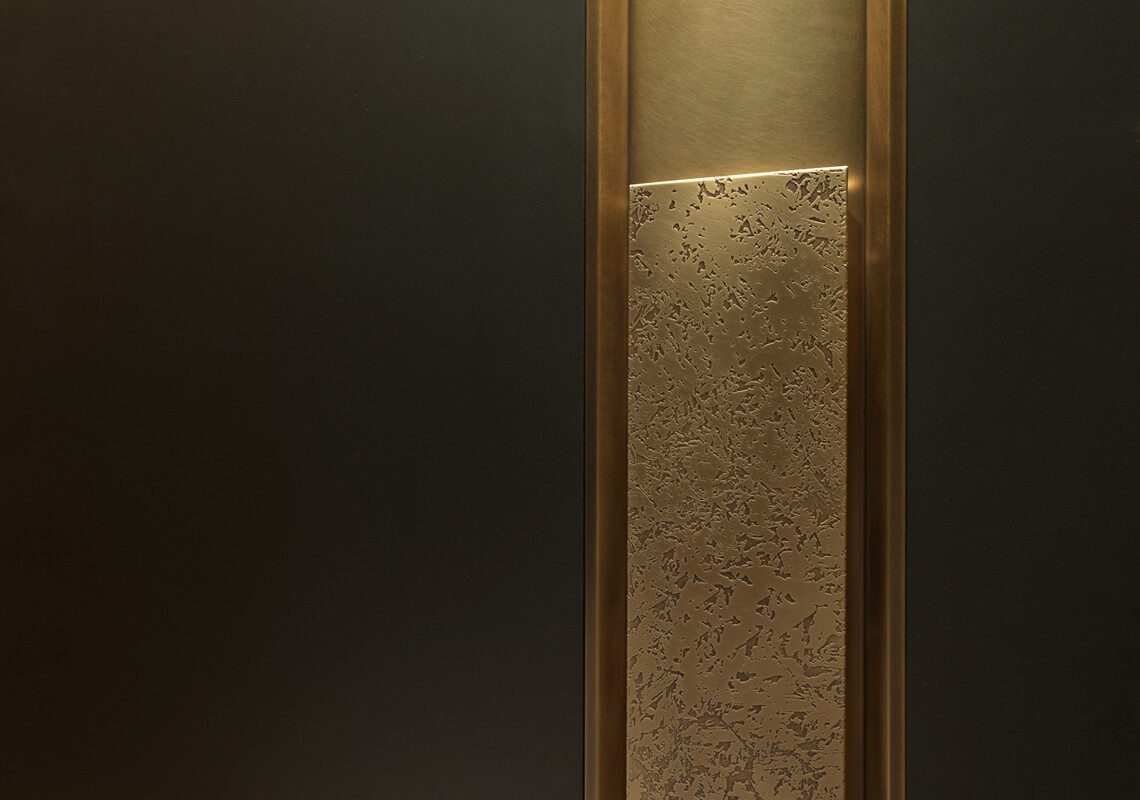 BUCKLE
A metal "buckle" runs across the door height, fastening with a "clasp" that serves as a handle.
The DeLabré Orbitale brass strip embedded in the door, resembles a structural component, acquiring an almost architectural appearance that contributes to the overall sculptural image.
The vertical rectangular handle is integrated in the metal belt and raised to the same level as the door's wooden panel. The distinctive 70-cm tall brass handle features a DeErosion finish.
Its slightly flared ergonomic design encourages a comfortable grip.
The DeLabré Orbitale brass jamb adds another sophisticated detail that transforms the door into a powerful element in which flat areas, volumes, and textures create a rich interplay of surfaces.
Various kinds of wood are available: walnut, brushed natural oak (Cigar), brushed grey oak (Ash), and brushed heat-treated Spessart oak (Tobacco).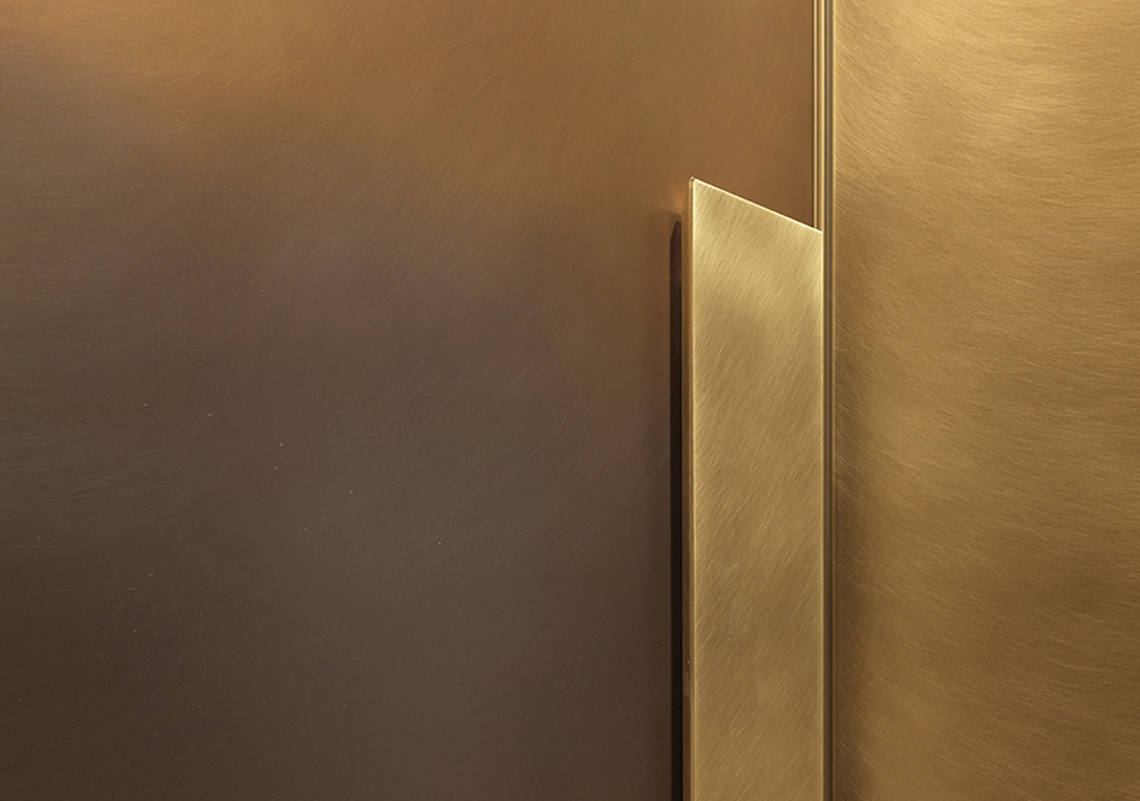 LUMINOVA
The new brass rectangular handle with a DeErosion finish, stands out for its significant height of 120 cm, emphasising its verticality.
Luminova is applied directly to the door and has a slightly tapered shape, designed to facilitate its use.
The handle becomes an aesthetic feature that stylistically demonstrates its function. It can be paired with wooden lacquered doors or brass-clad doors with a DeMarea or DeLabré Striato finish.
The DeLabré Orbitale brass profile defines and completes the door, creating a connection between the different materials.